7even (Seven) – Aroma 11ml – The Vaping Gentlemen Club
(in arrivo)
Burley Bianco, Lampone, Cacao, Luppolo Centennial, Torrone e Cyprus latakia. Un'esperienza di svapo indimenticabile con Kentucky Camuno di Seven, The Vaping Gentlemen Club.
(momentaneamente non disponibile)
CONSEGNA in 24 ore
SPEDIZIONE IN GIORNATA su ordini ricevuti entro le ore 15
SPEDIZIONE GRATUITA per ordini superiori a 59€

Descrizione
Recensioni (0)
Descrizione
Immergiti in un'esperienza unica di svapo con 7even di The Vaping Gentlemen Club. Un blend straordinario che accoglie l'anima del burley bianco, impreziosito dall'aroma fruttato del lampone, dal tono dolce del torrone e dal tocco deciso del cacao. Un hint di luppolo Centennial si mescola alla base di Cyprus latakia, dando vita a un tiro che lascia un retrogusto intrigante. Questo aroma ti farà scoprire nuovi orizzonti del gusto, un viaggio tra i sapori per una svapata senza precedenti.
Per ottenere il liquido finale 7even (seven) aroma 11ml – the vaping gentlemen club pronto all'uso, oltre all'aroma contenuto nella boccetta, va aggiunta la base neutra con o senza nicotina, in base alla percentuale di diluizione riportata sull'etichetta dell'aroma concentrato 7even (seven) aroma 11ml – the vaping gentlemen club.
Abbiamo preparato una comoda guida su come diluire gli aromi concentrati
Diluizione 7even (Seven) Aroma 11ml – The Vaping Gentlemen Club
Di seguito viene riportata una tabella per la diluizione "classica" al 10%.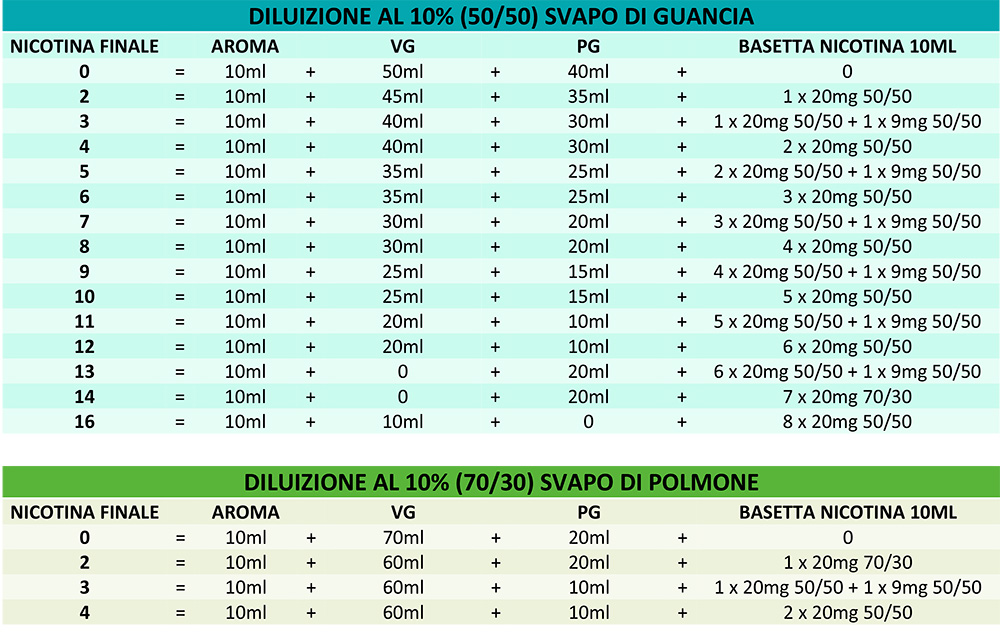 ACQUISTA:
Glicerina Vegetale
-
Glicole Propilenico
-
Basette Nicotina
Spesso acquistati insieme a 7even (Seven) - Aroma 11ml – The Vaping Gentlemen Club