Descrizione
Recensioni (1)
Descrizione
Red Izmir – The Vaping Gentlemen Club
La prestigiosa linea The Legend di The Vaping Gentlemen Club si impreziosisce ancor di più con nuovissime ricette rese uniche dall'azienda più esclusiva dello svapo!
The vaping Gentlemen Club non lascia nulla al caso ed è evidente fin da subito dalla presentazione visiva di questa strepitosa Linea, d'altronde si sa l' occhio vuole sempre la sua parte!
Queste confezioni "de grande classe" contengono al suo interno preziosissimi aromi che rendono il tutto Superbamente Affascinante.
Con l'aroma Red Izmir si riscopre un antica ricetta tramandata nella storia dal famigerato marcio McClelland, un vero e proprio omaggio a questa azienda che ha fatto la storia del tabacco pregiato mondiale.
Proprio seguendo la storica ricetta questo aroma sprigiona una dolcezza naturale eccellentemente abbinata alle note aromatiche ottenuta dalle foglie di Virginia Rosse amalgamate alle preziose foglie di Izmir pressate ed invecchiate in Cake.
La vera conservazione del nobile tabacco trasmessa al mondo dello svapo!
Edizione Limitata
Contenuto della confezione:
Aroma da 11ml.
Flacone di vetro ambrato da 110ml
Portabiglietti da visita deluxe
Spiegazioni dettagliate dell'aroma
DILUIZIONE CONSIGLIATA: 10%
Per ottenere il liquido finale red izmir the vaping gentlemen club pronto all'uso, oltre all'aroma contenuto nella boccetta, va aggiunta la base neutra con o senza nicotina, in base alla percentuale di diluizione riportata sull'etichetta dell'aroma concentrato red izmir the vaping gentlemen club.
Abbiamo preparato una comoda guida su come diluire gli aromi concentrati
Diluizione Red Izmir The Vaping Gentlemen Club
Di seguito viene riportata una tabella per la diluizione "classica" al 10%.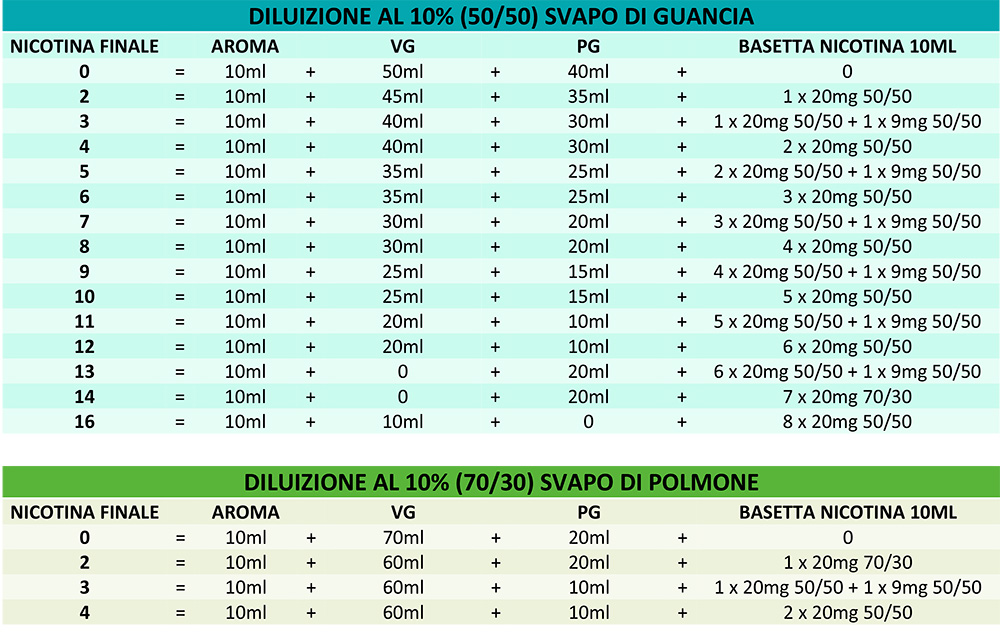 ACQUISTA:
Glicerina Vegetale
-
Glicole Propilenico
-
Basette Nicotina
---
Alcune recensioni di chi ha acquistato Red Izmir – The Vaping Gentlemen Club
clicca qui per leggere tutte le recensioni
Spesso acquistati insieme a Red Izmir - The Vaping Gentlemen Club