Descrizione
Recensioni (0)
Descrizione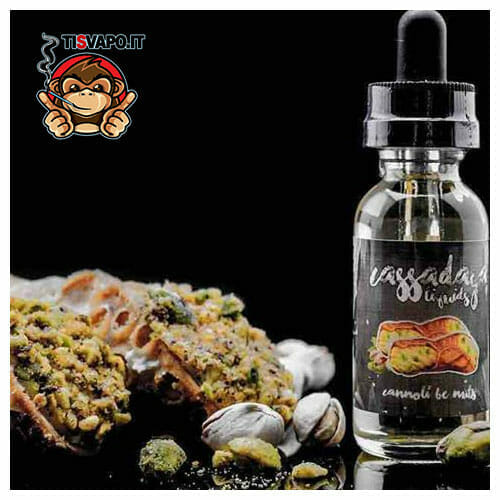 Cannoli Be Nuts  Cassadaga
Cassadaga propone un nuovo liquido pronto in puro stile americano ,dolce cremoso carico di aroma e come tutti i suoi prodotti, ottimo, giustamente bilanciato, con quel tocco in più che lo contraddistingue dalla massa.
Il Cannoli be Nuts
Il cannoli be nuts ha sempre come base la solita ma non scontata ottima crema alla vaniglia ottimamente bilanciata con le note burrose della cialda che la ricopre, e i leggerissimi  quasi impercettibili  armoniosi retrogusti di canditi, abbinati in questo caso ad un ottimo aroma alla mandorla,che si amalgama eccellentemente a tutto l'insieme in modo estremamente bilanciato, come le migliori creme aromatiche dei migliori dolci da pasticceria.
Il risultato di questo eccellente mix tra creme, cialde, freschi retrogusti, e il pistacchio, frutto che per la sua bontà viene utilizzato in largo uso per le creazioni pasticciere rende anche questo e-liquid un liquido che ha raggiunto traguardi altissimi riscuotendo l'approvazione e le migliori critiche  da milioni di vapers ed estimatori di liquidi pronti.