The Island – Mix Series 30ml – Super Flavor
18.90€
Un mix di Pesca dolce, Kiwi e Lici.
solo 1 pezzo disponibile
Disponibilità immediata.
Ordina ora! Il tuo ordine sarà spedito domani!
CONSEGNA in 24 ore
SPEDIZIONE IN GIORNATA su ordini ricevuti entro le ore 15
SPEDIZIONE GRATUITA per ordini superiori a 59€

Descrizione
Recensioni (0)
Descrizione
The Island è un liquido fruttato creato dalla prestigiosa italianissima casa produttrice Super Flavor.
Liquido adatto per il suo gusto fresco e variegato alla stagione estiva ma ugualmente eccellente per chi ama i fruttati in qualsiasi periodo dell'anno.
Un mix di Pesca dolce, Kiwi e Lici.
Un insieme di frutti a partire dalla pesca, frutto estivo per eccellenza, che si  presta alla preparazioni di svariate bevande gelati e altro, al kiwi che è diventato uno dei frutti esotici più apprezzati nel nostro continente al Lici frutto esotico ancora poco conosciuto ma di una bontà e dolcezza eccezionali.
L'unione di questi tre frutti saggiamente equilibrati tra di loro rende questo The Island di Super Flavor un liquido fruttato buono come pochi.
Contenuto: 30ml
Capacità flacone: 60ml
Tempo di maturazione The Island Super Flavor: pronto subito, consigliati 2/3 giorni
Per ottenere il liquido finale Super Flavor The Island da 60ml pronto all'uso, oltre ai 30ml di aroma contenuti nel flacone, vanno aggiunti 30ml di base neutra con o senza nicotina, così come riportato nella tabella delle diluizioni dei Liquidi Mix Series Super Flavor.
Diluizione The Island Super Flavor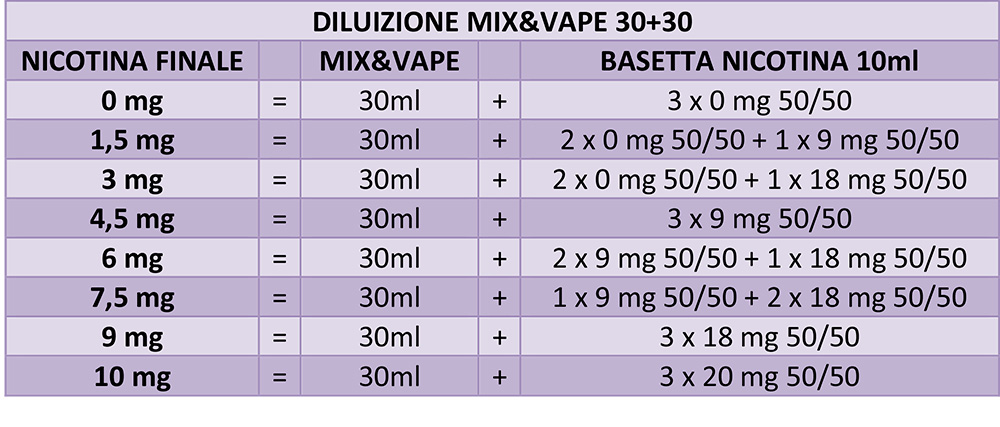 ACQUISTA:
Glicerina Vegetale
-
Basette Nicotina
Spesso acquistati insieme a The Island - Mix Series 30ml - Super Flavor