Virginia Aged – The Vaping Gentlemen Club
QUESTO PRODOTTO È FUORI PRODUZIONE
Vai alla categoria:
THE VAPING GENTLEMEN CLUB
per controllare la lista di prodotti simili e più recenti che potrebbero essere di tuo interesse.
24.90€
(momentaneamente non disponibile)
CONSEGNA in 24 ore
SPEDIZIONE IN GIORNATA su ordini ricevuti entro le ore 15
SPEDIZIONE GRATUITA per ordini superiori a 59€

Descrizione
Recensioni (0)
Descrizione
Virginia Aged – The Vaping Gentlemen Club
Virginia Messicano (essiccato al sole) maturato e conservato in botti di Rovere di Slavonia, tratto da un raccolto del 1997. Il tabacco viene tenuto a bassissima umidità relativa per più di 15 anni.
Questa particolare affinazione comporta una drastica caduta degli zuccheri tipici di questa tipologia di tabacco, limitandone la dolcezza e restituendo caratteristiche note e fragranze legnose.
Contenuto della confezione:
Aroma da 11ml.
Flacone di vetro ambrato da 110ml
Portabiglietti da visita deluxe
Spiegazioni dettagliate dell'aroma
DILUIZIONE CONSIGLIATA: 10%
Per ottenere il liquido finale The Vaping Gentlemen Club Virginia Aged pronto all'uso, oltre all'aroma contenuto nella boccetta, va aggiunta la base neutra con o senza nicotina, in base alla percentuale di diluizione riportata sull'etichetta dell'aroma concentrato Virginia Aged The Vaping Gentlemen Club.
Abbiamo preparato una comoda guida su come diluire gli aromi concentrati
Diluizione Virginia Aged The Vaping Gentlemen Club
Di seguito viene riportata una tabella per la diluizione "classica" al 10%.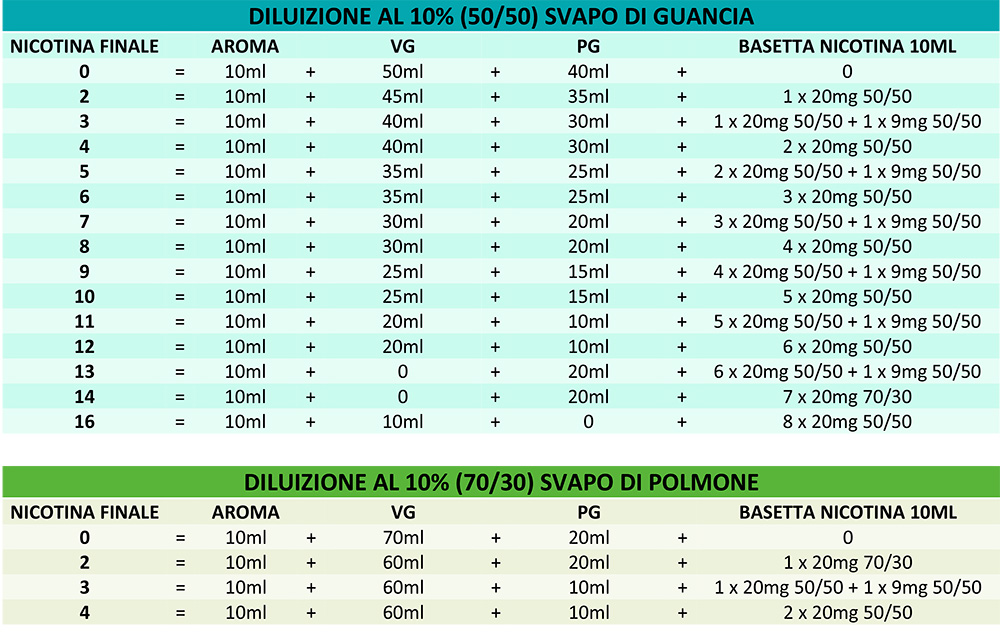 ACQUISTA:
Glicerina Vegetale
-
Glicole Propilenico
-
Basette Nicotina
Spesso acquistati insieme a Virginia Aged - The Vaping Gentlemen Club